The My World browser has four menu options.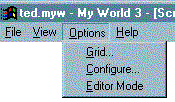 The File menu allows you to Open, Save and Print screens and to Exit My World 3.
The View menu (or Ctrl/F) allows you to turn the Fullscreen option on and off. When Fullscreen is selected, the screen expands to fill the entire screen area. Press the Alt key to show or hide a menu bar at the top of the screen.
Home takes you back to the first screen opened in the current session of using My World, or a page that has a SetHome command.
The Options menu has three options.
Grid allows the user to change the appearance and behaviour of the screen's grid.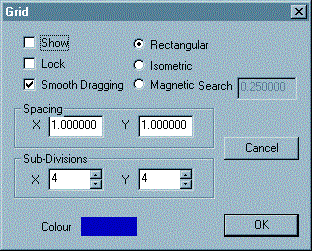 Show makes the grid visible. Lock makes moveable objects 'snap' to the nearest grid point.
There are three grid modes. Rectangular and Isometric control the pattern of the grid points.
When Magnetic Search is enabled, any moveable object will 'snap' to the nearest object within the configured distance when dropped.
All units in this dialogue box are in inches.
Spacing and Sub-Divisions control the distance between Rectangular and Isometric grid points.
Configure is used to change the program's settings.
Authorised users can change these by selecting the Configure... option and entering a password.
For details of the Configure options, please see the next page.

Editor Mode

Swaps into Editor Mode once the Configure option has been set.
The Help menu gives access to the Help file, to current version details and to the URL of the Dial Solutions website for latest information and Frequently Asked Questions.