Graphics frames can be edited in several ways. In all cases, first select the frame. A red border appears around it.
1) You can use the Frame Dialogue box to edit the frame: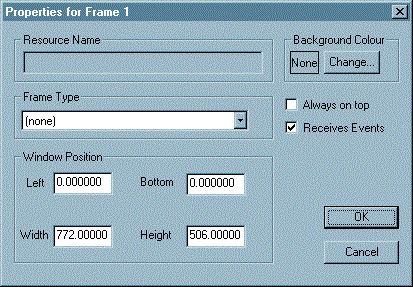 a) Use the Frame Type menu to change how the frame behaves.
b) Use the Background Colour box to change the background.
NB by default, the background colour is set to None. Untick the box on the colour picker.
c) Use the Window Position icons to change the position and size of the frame.
NB Changing the size of bitmaps, gifs and animations will affect the quality of the image.
2) You can resize a frame by dragging its sides and corners.
3) You can edit the contents of a graphics frame by opening the Resource viewer for the screen then double-clicking on the file icon. If a suitable editor is available, your file will be loaded into it. When you have edited the file, save it, then save the My World file. Re-open the My World file, and your changed file will appear.